This Savage Song ( Monsters of Verity#1) by Victoria Schwab 
Publisher: GreenWillow Books
Genre: Fantasy and Young Adult
Release Date: June 7, 2016
Pages: 464 (Hardcover)
There's no such thing as safe in a city at war, a city overrun with monsters. In this dark urban fantasy from author Victoria Schwab, a young woman and a young man must choose whether to become heroes or villains—and friends or enemies—with the future of their home at stake. The first of two books.

Kate Harker and August Flynn are the heirs to a divided city—a city where the violence has begun to breed actual monsters. All Kate wants is to be as ruthless as her father, who lets the monsters roam free and makes the humans pay for his protection. All August wants is to be human, as good-hearted as his own father, to play a bigger role in protecting the innocent—but he's one of the monsters. One who can steal a soul with a simple strain of music. When the chance arises to keep an eye on Kate, who's just been kicked out of her sixth boarding school and returned home, August jumps at it. But Kate discovers August's secret, and after a failed assassination attempt the pair must flee for their lives.
First of all, I would like to thank the publisher, GreenWillow Books for giving me an ARC of this book to review. Thank you so much! Really appreciate it! All right, now for my review.
I've read Schwab's other story, The Archived  and really enjoyed it so I was super pumped to read This Savage Song. But, like, no. So monotone, so unemotional, and just…sad. Pretty much, all I was thinking while reading this was:
Nothing matters in the book. And by this, I mean I could not have cared less if the whole city got eaten by monsters. The characters are not well-developed, are extremely flat, and annoying. An example would have to be August himself as he's supposed to be watching Kate, understanding her tactics, and reporting everything back to his dad yet he doesn't (or rarely ever does) report a damn thing. He just waits for her to show up. Again,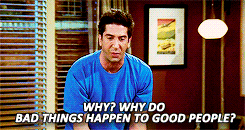 On top of this, the relationship between Kate and August is so fucking contrived which is pointless Since there is nothing to care about here.
But, I did like the setting. Schwab seems to spend ample amounts of time on world building, which is great because the setting is the best. Monsters! Crawling everywhere! No one is safe. I could completely believe it, feel the atmosphere of the things that go bump in the night, unfortunately, it quickly died because of everything else. Moreover, the only character I actually enjoyed was Ilsa because she is so strange yet cool and AHHH!! Picturing the stars all over her body is just so beautiful and perfect. But then again, maybe I don't actually like the character, maybe I like the idea of this character. Either way, I'm giving Schwab points for it.
This Savage Song is flat-out a 'meh' book. The characters are shit with Leo leading the pack. When he did anything, I took it all in without hesitation or emotion. Moreover, because of this, the plot twists are shit, the writing is okay, and the world is excellent. Although I do recommend this book, I also recommend to go into it with an open mind as you will most likely be let down otherwise.